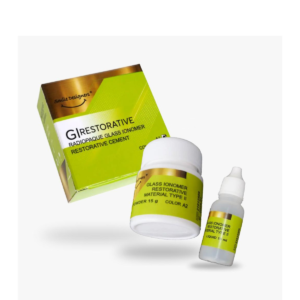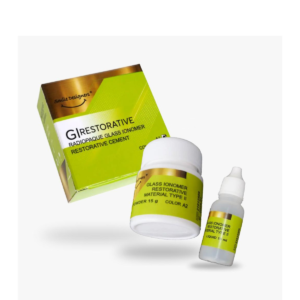 Smile Designers Glass Ionomer Restorative Type 2
Glass Ionomer Restorative Material Type II
Intention Of Use: 
Restorative of deciduous teeth, class III & V and cervical erosions long-term temporary restorative Class I and II . 
Composition 
Alumino-silicated Glass 
Polyacrylic acid 
Varnish 
Instructions of use: 
Powder and liquid dispensing 
The standard powder to liquid ratio is 0.85g the powder and 0.45g the liquid 

For accurate dispensing of powder, lightly tap the bottle against the hand. Do not shake or invert 

c) Hold the liquid bottle vertically and squeeze gently 

Close bottles immediately after use. 
Mixing
Dispense powder and liquid onto the pad. Using the plastic spatula, divide the powder into 2 equal parts. Mix the portion with all of the liquid for 10 seconds. Incorporate the remaining portion and mix the whole thoroughly for 15-20 seconds (total time within 30 seconds) 
Product Placement 
Place the mixture in the prepared cavity (the cavity has to be dry and clean.) When all the restoration is met, let the product lose his brightness then put your finger over the restoration phishing inside the cavity for one or two minutes. When 6 minutes elapsed, cover the restoration with a layer of varnish. The varnish avoids water absorption of the product. The product needs at least 24hrs., to meet the maximum strength. 
Storage 
Store at temperature of 39.2-77.0F